Usually, people are looking for restaurant and cafe for weekend hangout. Luckily, Jakarta has so many restaurants and Instagrammable cafes, giving you a lot of options for your weekend.
If you reside in Royal Mediterania Garden Residence, you will be very happy because there are so many restaurants and cafes around Royal Mediterania Garden. Check out these list of recommended cafes and restaurants for your weekend!
Dunia Steak
Located in Jl. Muwardi 1 No. 40, Grogol, Dunia Steak provides delicious western food  with affordable price. You can also find non smoking room, smoking area, outdoor area, spacious parking area, and VIP room here.
It opens from 12PM until 12AM. They serve various steak such as chicken steak, tuna steak, kakap steak, sirloin steak, and tenderloin steak.
Waroeng SS (Special Sambal)
If you love spicy food, chance are you will love this restaurant too. Located in Jl. Tj. Duren Utara 4, you will find various sambal here. The food and sambal are served with small portion so you can try many varieties of sambal.
The operation hours is 11AM until 10PM. Waroeng SS is also a popular place for family or community gathering.
Strawberry Cafe
Located in Jl. Tanjung Duren Raya No. 10, there is Strawberry Cafe. This cafe has a unique concept, they provide many board games to play with your friends and family. You can also try their food and beverages like cappuccino nutella, cordon blue french fries, grilled spaghetti, etc.
The opening hours is from 12PM until 12AM. They also have spacious parking and two floors for dining area.
Pare'gu
If you love Japanese food, come and visit Pare'gu at Kedoya Centre Blok A1 No. 2 – 3, Jl. Raya Perjuangan. They open from 11.30AM until 10PM.
at Pare'gu, you can find halal grilled food with all you can eat concept without time limit. Their favourite menu are grilled ribs, beef yakiniku, and shabu-shabu. Pare'gu also have free wifi, parking area, smoking area, and VIP room. If you're interested with Pare'gu, make sure to book a reservation as this restaurant is always crowded.
Coteca Cafe
Coteca Cafe is located Jl. Kebon Jeruk Raya No. 2 near Binus University. The operation hours is from 11AM until 12AM.
In this cafe, you can enjoy some coffee, tea, or other beverages and snacks. Coteca also provides free wifi, board games, air conditioner, parking area, live sports broadcast, and halal food. As a cafe located near university, the menu is guaranteed affordable. Very suitable for college students to do their assignments.
Hog's Breath Cafe
Hog's Breath Cafe is located in Tribeca Park, Central Park Mall and it's only  walking distance from Royal Mediterania Residence. If you come to Hog's Breath, you will find various menu of ribs.
This cafe also provides private dining area, smoking room, free wifi, and live entertainment. Dining area is located right beside the Tribeca Park, you can enjoy your food while looking the fresh garden or people walking.
Pingoo Restaurant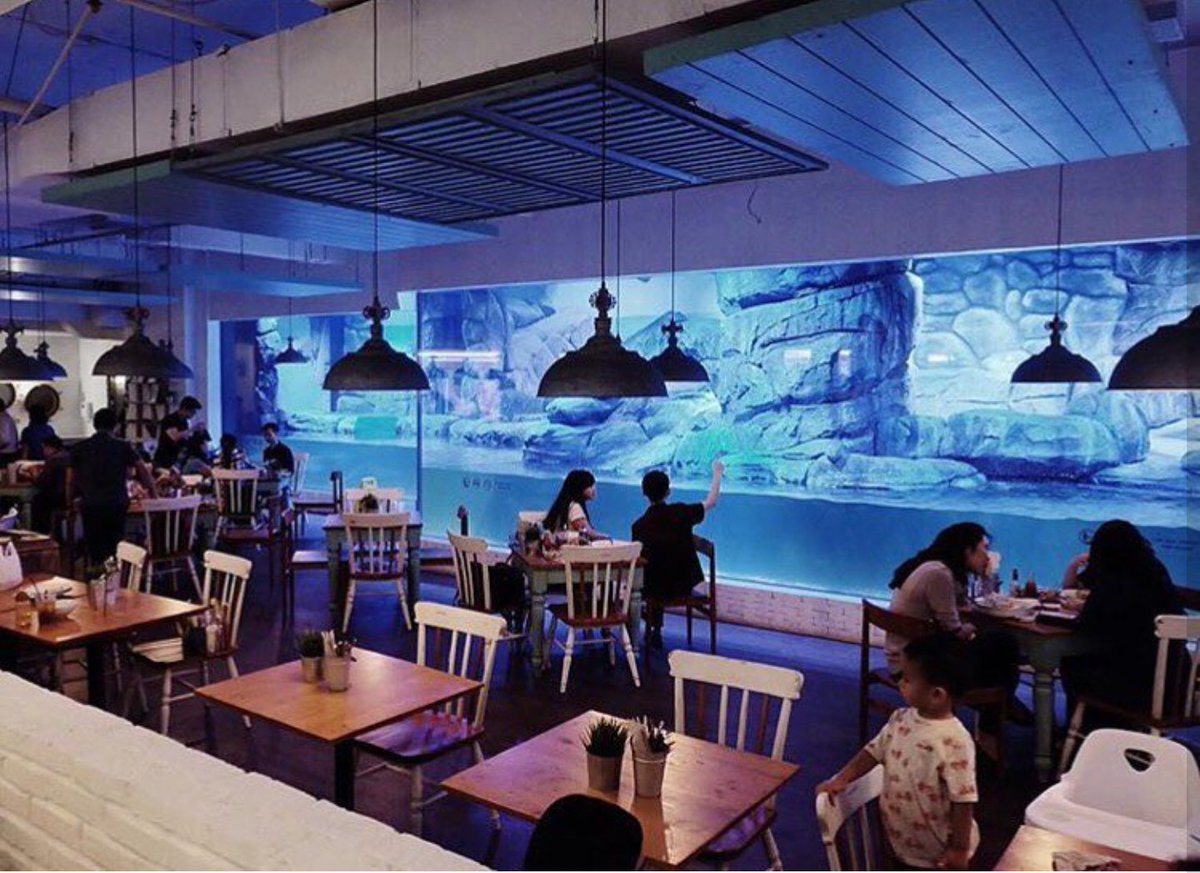 Pingoo Restaurant is located beside Jakarta Aquarium in Neo SOHO Mall. Pingoo has a unique concept restaurant where you can dine and meet penguins at the same time. The entrance fee is free, but you must spend at least IDR 300k/table. They also offers penguin feeding experience for IDR 50k. Jakarta Aquarium and Pingoo Restaurant is owned by Taman Safari Indonesia, the largest safari park in Indonesia.
PHX Grogol
PHX is a franchise food court with unique concept, they use container to construct food court area. PHX Grogol is located at Jl Dr. Susilo Raya No.342, the operation hours is 10AM until 11PM.
As a food court, you will find various menu here. There are some popular tenant, like Burgushi (fusion of burger and sushi), Jikasei (the delicious and affordable sushi), Eatlah (salted egg specialist), Ngook (Bangka grilled pork), and many more.
GigaBites Cyber Cafe & Eatery
Are you a gamer? If yes is your answer, then you must visit GigaBites! The ground floor in this cafe is dining area and the first floor is cyber cafe. As a cafe which is located near universities (Tarumanagara, Ukrida, and Trisakti), the price is very much affordable. In GigaBites, there are breakfast package from 4-11AM and lunch package from 10AM – 2PM.
Want to spend your night for gaming with your friends? GigaBites opens 24 hours and provides a special package for night gamer. Every PC in GigaBites use gaming specification, so you can enjoy your favourite games here.
Saung Greenville
Craving for seafood? Try blackpepper crab in Saung Greenville! The black pepper crab is their favourite menu and of course they also have others fresh seafood like squid, shrimps, grilled fish, and many more.
Located in Jl. Green Ville No. 12A, the operation hour is from 9AM until 11PM. This place has already opened for more than 10 years and have four branches across Jakarta.